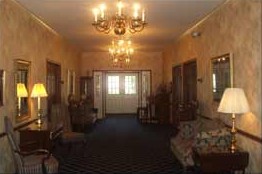 Loutzenhiser-Jordan Funeral Home and Cremation Services, Inc. is the only "free standing" facility in the Greenville area. The location of the funeral home is in the heart of the Greenville Community, and is easily accessible from Pittsburgh to Erie. Parking is ample and easily entered from either North or South Main Street.
Upon entering the facility, visitors will note, the large Main Hallway between both visitation rooms, has a warm and homelike atmosphere that allows for families, friends, and visitors to gather and converse. The two extra large visitation rooms offer plenty of space and seating for services. Both of our visitation rooms offer a 46 inch flat screen television for the ultimate display of a DVD tribute video. Both rooms also offer a lighted tribute cabinet, which is used to showcase
personal memorabilia of the deceased. Both of these amenities are unlike anything you will find at another funeral home.
The conference room is available for individual and family meetings for the making of arrangements or a monument consultation. We offer a specialized casket selection room that was designed for customer ease as well as a vault display area, cremation options area, and a monument display.
The family lounge and children's lounge are specifically designed to help give families space for privacy as well as give children a safe place to be during services. Our facility is handicap accessible and our staff is always on hand to give assistance in any way that we can better help you.
We feel that our facility is unmatched by any of our competitors. If you've been to our facility, we feel strongly that you will most certainly agree. We invite anyone that would like a free tour of our facility to simply give us a call and we will be happy to show you around and answer any questions you might have.